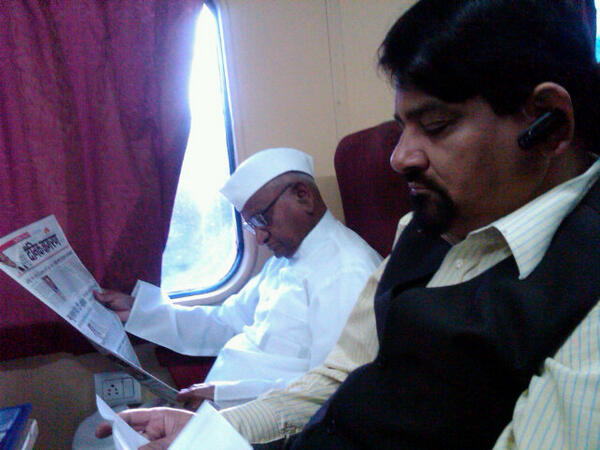 Photo courtesy Dr. Manishkumar@twitter.com. Date of the journey is 29th March 2013, as per the tweet of Dr. ManIshkumAr. mAnanIya Shri Anna Hazare was on his way to Amritsar. Dr. ManIshkumAr tweeted, quote:
"Anna Hazare on his way to Amritsar. Next stop Ambala @ 8:30 pic.twitter.com/FbtQuvx7al."
.
What is common between mAnanIya Shri AnnA HazAre and Swami vivEkAnanda?
Ans: Both travel in upper-classes in trains.
Evidence for SwAmi vivEkananda's travel in upper class:

An interesting conversation with a devotee was recorded by Swami Gambhirananda.

SWAMIJI'S TRAVELS IN 1890 - 91

At Delhi, Swamiji asked for a second class rail ticket (in those days second from top class), for his health did not permit travelling in inter class. The devotee Shri Natakrishna asked Swamiji: "Guruji, are you going comfort-seeking?"

Reference: Swami Gambhirananda, Yuganayaka Vivekananda (Bengali), Vol III, Udbodhan, Kolkata, 2004, 52-53
ybrao donkey's views
1. During 1890-91 Swamiji was in youth. His health seems to have suffered after returning from USA. 2. If his health did not permit him travelling in inter class in 1890 itself (28 years age), what was the use of his practising rAjayOga which he said, would enable humans to live 150 years?
3. We should be grateful to Shri Anna Hazare for not using special planes/helicopters in his fight to drive out corruption. Yet, I feel, that he should have travelled Sleeper Class or probably AC Second Class. Then, we have to take his age into consideration. Hence, I shall resist from making further observations, but there is an allegation that he allowed Rs. 220,000/- to be spent on his birthday celebrations. You can read it from the under-noted link:

click to open a new tab for http://www.business-standard.com/article/economy-policy/anna-was-held-guilty-of-misuse-of-trust-funds-111081600037_1.html.

4. Swami vivEkAnanda was also very fond of celebrations and receptions. In fact, for his Calcutta reception of 1897, even tickets were sold. (To continue with more info. To revise if necessary.)